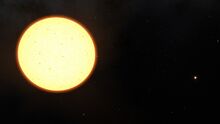 Eclio is a M-Class Star Within The Peltara-Eclio System.
Mass: 0.3211 M☉
Luminosity: 0.0066832 L☉
Diameter: 0.3589 D☉
Temperature: 3251.9 Co(0.59 T☉)
Absolute Magnitude: 10m.26
Spectrum: M 2.5 V( Main sequence Red Dwarf 2.5)
Density 9.825 g/cm3 (6.96985816 De☉)
Planets
Eclio Has 6 Planets, 2 S-Class, Which One Was Moved to the 1 N-Class Planet. As well as this, there are 1 J-Class And 1 D-Class Planet. One E-Class Moon From a R-Class Planet Was Captured Later after Terraforming.
S-Class
Etrapas(Now A Moon)
Beauly
J-Class & N-Class
Wever(N-Class)
Gigas(J-Class)
D-Class
Posian
E-Class
Fetamit(Originally a Moon of a R-Class Planet)
W.I.P
Community content is available under
CC-BY-SA
unless otherwise noted.