Flat Earth or normally known as Earth is a very strange type of planet discovered outside of the normal solar system.
The Planet has a very weird feature, It is a dome that acts as an atmosphere and it also spins.  
scientists Say : 
"This is a very strange feature this strange planet has." 
The flat earth also has these very strange species called "Flat Earthers" which are normal humans they wear a shirt that says "NASA is Fake" and if you say "Flat earth is fake" they will get hostile and you will probably die.
they also can sense NASA members if they approach the Flat Earth solar system.
Culture
Flat earthers living in flat earth are mostly Americans
Every Friday, they do a ritual to make NASA not exist, but every time they try they always fail.
The food there is the same in America but with different names here is the list:
McFlatties (Mcdonalds)
Kentucky Flat Chicken (KFC)
Burger Flat (Burger King)
A&Flat (A&W)
Flat earthers mostly spend their times on the computers arguing with Globe Earthers.
They also usually hack into globe earthers Computers and change their status, info, and profile picture into Flat earth images.
By the year 1345904, They did a mass hack that made the NASA website redirect to the Flat Earth Society website.
Destroying over 100,000,000 Computers and Technologies around the Universe.
And youtube videos were changed to flat earther videos.
The cities there, advertise:
Flat earth shirts / NASA is fake shirts
Caps
And even Flat earth globes. (yup, flat earth globes are strange but they invented them there)
Hopanians (From the planet Hopan) came to the flat earth system to study the weird planet and why its like that.
Communications with Hopanians
FLAT EARTH LOG ENTRY #1
Hopanian: we got a signal!
NASA Scientist: Where at?
Hopanian: Let me check....
Flat Earther: Hello??
Hopanian: Hello.. who are you? Speak at once.
Flat Earther: We are flat earthers.. we believe that you have a NASA scientist in that ship
NASA Scientist: FLAT EARTH IS FAKE ITS NOT REAL!
*Beeping on ship*
NASA Scientist: WE GOT A ROCKET HEADING TOWARD US.
Hopanian: WHATS IT CALLED
NASA Scientist: THE RADAR SAYS ITS CALLED "Flat Earther Penetrator 9000"
*explosion can be heard*
END OF LOG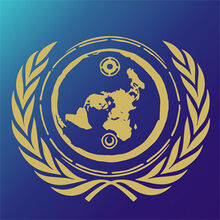 Community content is available under
CC-BY-SA
unless otherwise noted.