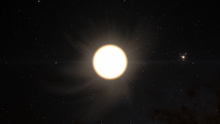 Meaqo (or RS 8414-21-7-1956863-288 in 0.9.8.0) is a class G7.5 V yellow dwarf with 8 planets in the galaxy Circinus. it doesnt host any habitable planets, but there is a hot oceania called Zawnus. its temperature is 146°C and the pressure on it is 629 atm. Even if the atmosphere was thinner, it still wouldnt be breathable because it contains 94.1% water.
Community content is available under
CC-BY-SA
unless otherwise noted.