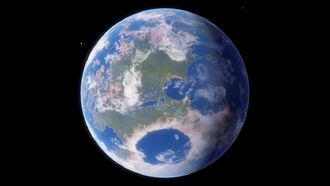 The Sephiroth System (RS 8409-3840-7-1715591-17 in 9.7.1), located on the other side of the Milky Way, was discovered in 9691. This system is only 3.6 billion years old but has four worlds with native life, all of which were most likely seeded by a group of asteroids containing the same strain of space dwelling bacteria as all the life on these worlds is shown to be descended from a nearly identical genetic code.
Community content is available under
CC-BY-SA
unless otherwise noted.